Friday 22 July 2011 at 23:18 (0 comments)
PlayOnMac 4.0 beta has been updated because of an important issue: PlayOnMac was unable to show text. Indeed, on my Mac, I have all the libraries needed by PlayOnMac, as a consequence, if one of them is missing, I can't see it because there is no problem on my computer.
Linux users are not concerned, but you can still update your version.
To download the fixed version, you can go here:
http://repository.playonlinux.com/PlayOnMac/PlayOnMac_4.0-beta2.dmg
Again, sorry. Hope it will work fine this time.
Friday 22 July 2011 at 20:13 (2 comments)
EDIT : An important problem has been found in PlayOnMac. A patch is being sent. Sorry for the problem

Hi everybody
We are happy to tell you that
PlayOnLinux and PlayOnMac 4.0
are available
For those who have never heard about it, you can read
this news
. It explains most of the new features.
A lot of things have changed, for example:
-
Configuration window
is now finished
- The word "prefixes" is replaced by "virtual drive"
- Manual installation is really simplified (Install -> Install a non listed program). Moreover, it's now able to detect and read CD-ROMs
- A lot of functions were added for developers. We're going to rewrite the documentation
- Kernel panic problem on Mac OS 10.7 (Lion) is now solved
- PlayOnLinux and PlayOnMac can send us a bug report when a problem is detected
- Tools -> Bug report has been added
- Integrity of downloaded files is now checked
- A lot of bugs are fixed
Other features are planned for the final release
Install PlayOnMac
You can download this version here :
http://repository.playonlinux.com/PlayOnMac/PlayOnMac_4.0-beta1.dmg
Please keep in mind that it is still a beta version. You might encounter some problems. Don't hesitate to let us know in the forum and the bug tracker. You can also use the built-in bug reporter.
Thank you and enjoy

Thursday 21 July 2011 at 4:57 (5 comments)
Hello everybody,

The 10.7 Version (Lion) of Mac OS is finally released today. The actual PlayOnMac (2.5) version can cause a Kernel Panic in certain cases.

We have managed to solve the problem, and the version 4.0 is fully compatible with Lion.

For those who want it, it is already possible to test on Linux and on Mac. You can drop a comment if you wish to receive by mail a link to test this version.
Monday 18 July 2011 at 21:31 (0 comments)
Hi everyone,
The following installers have been updated:
- Far Cry 2
- Far Cry 2 Patch 1.03
- Mafia II
- Monkey Island 2 : LeChuck's Revenge Special Edition
- Prince of Persia : Sands of Time
- Prince of Persia : The Forgotten Sands
- Prince of Persia : The Two Thrones
- Prince of Persia : Warrior Within
- Prince of Persia 2008
- Secret of Monkey Island Special Edition
Have fun

Monday 18 July 2011 at 15:58 (1 comments)
Hi all,
Having worked hard for days, I am glad to announce that eight new games are now available!
Cars 2
:
This is the adaptation of the eponymous film. It allows you to play as one of the 20 characters Cars ,become a famous spy and use high-tech gadgets to fulfill your missions. Although the espionage theme is at the center of the adventure, the race is not abandoned as the objective is to participate in World Grand Prix and become the fastest car in the world.
More details at the forum
HERE
.
Lume
:
There's a power outage at grandfather's house. Moreover, he's missing. Dive into the world of photorealistic Lume, solve intricate puzzles to help restoring the energy, and reveal a deep mystery behind the crash.
More details at the forum
HERE
.
Magicka
:
In this game, you play a wizard in a fantasy world of Norse mythology. Your quest is to capture the evil wizard who has turned the world into turmoil.
More details at the forum
HERE
.
Metal Slug Collection
:
Metal Slug Collection includes more than seven games in the world of Metal Slug PC, series of beat 'em all overexcited aesthetics-oriented cartoon and comic. From Metal Slug first name, to Metal Slug X and Metal Slug 6(long remained unpublished in Europe).
More details at the forum
HERE
.
Sanctum
:
Sanctum is a tower defense in first person in a world of science fiction. The player has the role of Skye, an elite soldier sent to protect his hometown Elysion One, from hordes of mysterious alien creatures.
More details at the forum
HERE
.
Star-Twine
:
This is a strategy game with a unique atmosphere, stunning visuals and almost infinite number of levels to play. Fight on sprawling levels in three dimensions where you, a small point of light, must construct facilities to extract energy from the son who form the world. The energy can be devoted to new structures, each with their own abilities.
More details at the forum
HERE
.
Super Meat Boy
:
This game invites you to control a little meat boy. This title is a game platform in which the protagonist must avoid various traps food such as a circular saw that would reduce him to state of steak.
More details at the forum
HERE
.
The Witcher 2 : Assassins of Kings
:
This is a role-playing game focused again at Geralt of Rivia, which will deal with conspiracies to remove all the crowned heads. Progress in a dark world by customizing your character freely, influencing history through dialogue and by using combos.
More details at the forum
HERE
.
The game :
The 1.2 Patch :
Also, the following installers have been updated:
- Desura
- The Witcher
- The Witcher Patch 1.5
Enjoy

GNU_Raziel
Sunday 17 July 2011 at 22:21 (1 comments)
Hi everyone,
The following installers have been updated:
- Warcraft III
- Warcraft III : The Frozen Throne
- Warcraft III patch 1.26a
- Warcraft III : The Frozen Throne patch 1.26a
- Heroes of Might and Magic V : Tribes of the East
Have fun

Saturday 16 July 2011 at 20:58 (0 comments)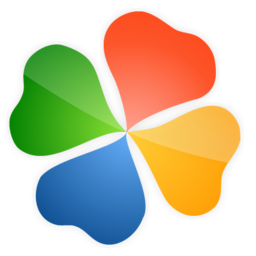 Hey all!
As you can see, we have completely redesigned the website for
PlayOnLinux
and
PlayOnMac.
. Here are the new features:
- We have created a new logo, which will soon be the new icon for PlayOnMac/PlayOnLinux programs. The site design was completely redone in order to leave more room for content, and thus to make browsing more enjoyable.
- Since 2009, as you know, we have two projects to manage: PlayOnLinux and PlayOnMac. So we decided to make shared forums, news and a bug tracker for both projects to halve our working time. (In addition, it saves us opening four pages to check 4 times the same thing

)
- We reorganized the forums. When doing manipulations, I've lost today's messages, I'm really sorry. PlayOnMac posts are copied into the correct sections.
- It is currently not possible to copy the news of the old PlayOnMac site to the new PlayOnLinux site, I'm thinking about a simple solution to this problem.
- The bug tracker has become much more visible and it is recommended that you use it to post your problems.
In addition, PlayOnLinux 4 and PlayOnMac 4 are coming very soon.
Good evening :-)
Saturday 16 July 2011 at 20:41 (1 comments)

Hey everyone !
Today, I'm writing a little news to keep you informed of the development of PlayOnLinux and PlayOnMac 4
Some screenshots to begin:
On Linux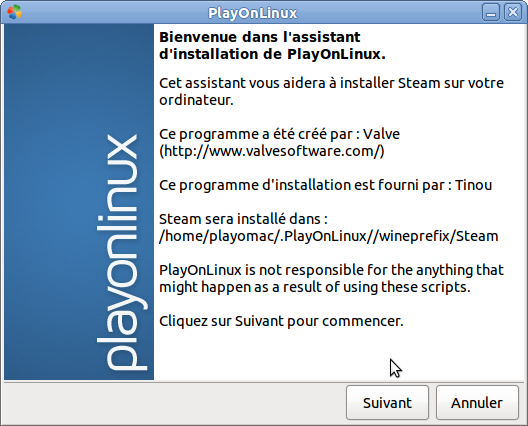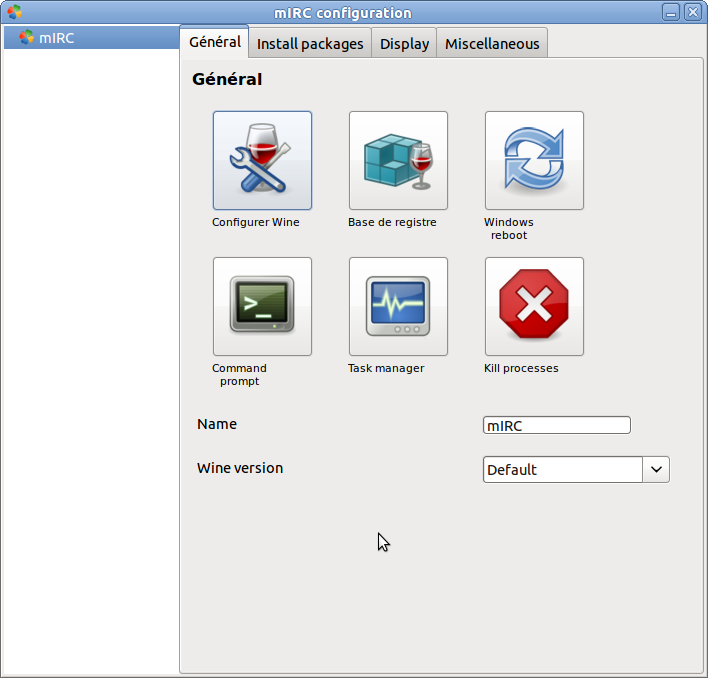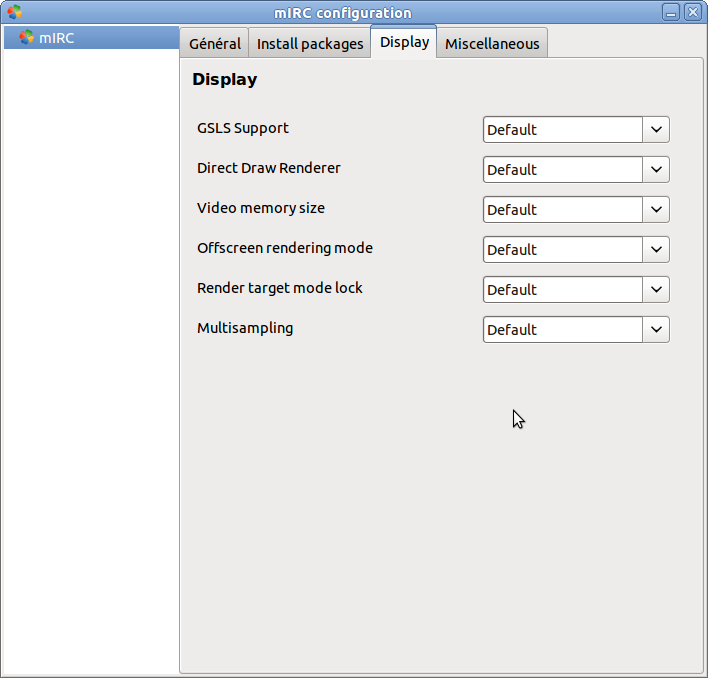 On Mac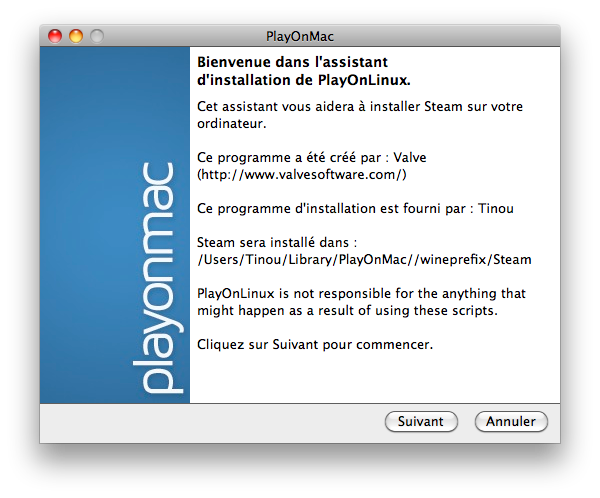 What's new ?
Since the release of PlayOnMac (2009), it feels like I'm coding each new feature twice. So, in this version, we have decided to combine
PlayOnLinux
and
PlayOnMac
entirely, in order to halve our working time. Now PlayOnLinux and PlayOnMac will
have the same code
. That means that it will be the same program on the two OSes. Linux users will now benefit from the same features as Mac users do:
- Double clicking on an executable will launch a very simple installation wizard.
- Integration of a POL_WebSite API, which allows you to sign into your PlayOnLinux
account with a script.
- Debug function: when a program does not start, PlayOnLinux will allow you to send an automatically-generated report to the Bug Tracker.
- A cleaner and better interface. (It is not bash that runs independent python windows, but a python script that launches bash when needed. This helps to unify the PlayOnLinux windows in one application).
- Create a shortcut on your desktop for already installed applications.
But we have not forgotten the Mac OS that will take advantage of features available in Linux:
- The scripts' signature. For security reasons, checking that the PlayOnMac scripts (= Windows application installers) have been verified and validated by our team.
- The automatic extraction of icons after installation.
- The plugin and package support. Pol (We will probably create the .Pom, so everyone's happy)
That's not all. We have added many other features:
- The application configuration window is completely remade.
- Possibility to install PlayOnLinux functions (vcrun2008, flashplayer, ie6, ...) from the configuration window.
- Updating the list of applications will not open a window, but gets in the status bar.
- The availability of a new version will also be displayed in the status bar.
- During the manual installation of a program, there will now be an MD5, allowing PlayOnLinux/PlayOnMac to identify if there is a script for this program.
- Many functions for scripters.
- New icons, windows, more aesthetic and less resource-intensive.
- The word prefix is replaced with "virtual disk".
- A very big clean-up. (PlayOnLinux v2 no longer supported, as well as many other functions not used).
- Fixed a major bug, quite annoying in PoL v3: when you click "Cancel", the current script will be killed. It will stop in any case.
Other functions are provided:
- A new manual installation wizard redesigned, with automatic creation of a script if the installation was successful.
- Possibility to connect to your PlayOnLinux account to test your scripts or to send us a note.
- Possibility to connect to your account to request the compilation of a Wine binary with a patch.
- Downloads Control.
- If other ideas come from me/you in mind
For our curious friends
POL_LoadVar_device
will give you two variables in the Device ID and Vendor ID of the graphics card. (Runs on Mac and Linux). Useful in Wine.
POL_SetupWindow_prefix_selector
will provide you with a list of icons, and a checkbox at the bottom to choose to display the prefix instead. The window will return a prefix to the final. (Useful for exemplr patches)
POL_WebSite_login
is used to request logins to PlayOnLinux
POL_WebSite_check_login
to check logins to PlayOnLinux
POL_WebSite_Init
to log into accounts
POL_WebSite_Request
can make a request to the site (send a bug, post a message on the forum, download a script, etc ...)
POL_WebSite_Close
to log out
POL_WebSite_logout
to delete PlayOnLinux logins (it will make another POL_WebSite_login, then request the user IDs to redo a query)
POL_MD5
et
POL_MD5_file
for calculating an MD5 sum (compatibility Mac and Linux)
POL_SetupWindow_textbox_multiline
, displays a multi-line text box
POL_SetupWindow_show_exe
displays all non-Wine executables in the Wine prefix
POL_SetupWindow_file
displays a file
A test version is already available. For suggestions or opinions, please post a comment :-)
Saturday 16 July 2011 at 20:02 (0 comments)
Hello everyone,
I'm writing a news today to tell you about the coming software wizard to make scripts/installers for PlayOnLinux/PlayOnMac.
It is :
The Script Creator
The Script Creator allows you to create simple PlayOnLinux/PlayOnMac scripts for most applications/games without Bash knowledge.
The first beta version of Script Creator is now available, but only for GNU/Linux, and currently only in French.
Script Creator is coded in C++ with GTK+ and is licensed under the GNU/GPL v3.
Warning:
This is a beta version, it may contain bugs, if you find one, you can report it with the Bug Tracker.
URL:
http://files.playonlinux.com/Script_Creator4.0-beta1.pol
SuperPlumus
Saturday 16 July 2011 at 18:42 (0 comments)
Hi all!

This is my first script featuring Synthesia, now available on PlayOnLinux !

It's a educational game that aims to teach you piano.
You can choose ANY midi file and Synthesia will play it for you in a virtual keyboard! You can either choose to play it yourself with computer keyboard or a MIDI keyboard. It also allows you to play at your own speed and change the instruments.

With 25 bucks more, you can buy the Learning Pack to have many other features!

If you've always wanted to learn piano in a new fun way, this software is for you.
Pages: 1 - 2 - 3 - 4 - 5 - 6 - 7 - 8 - 9 - 10 - 11 - 12 - 13 - 14 - 15 - 16 - 17 - 18 - 19 - 20 - 21 - 22 - 23 - 24 - 25 - 26 - 27 - 28 - 29 - 30 - 31 - 32 - 33 - 34 - 35 - 36 - 37 - 38 - 39 - 40 - 41 - 42