Mozilla Firefox

Install this program
Informations
PlayOnMac installer creator:
SuperPlumus
Supported platforms:
Linux, Mac OS
Number of download:
36994
Actions
Description
Type : Web Browser
Editor : Mozilla Foundation
Compatibility : 5/5
Installation modes : Download, Local

English :
Mozilla Firefox is a web browser.
You may need Mozilla Firefox if you want to test a website compatibility, you should not use it to navigate.
It also includes Flash Player and Shockwave Player


Français :
Mozilla Firefox est un navigateur internet.
Vous pouvez en avoir besoin pour tester la compatibilité d'un site web. Nous vous déconseillons de naviguer avec.
Il permet également d'installer (de manière optionnelle) Flash Player et Shockwave Player.
Screenshots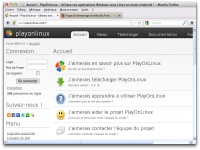 Rank