Huge recruitment session
Saturday 26 January 2008 at 11:24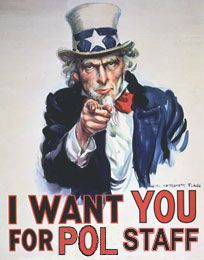 Hello,
With PlayOnLinux's development and the growing internationalization, the need of an English specific team is more and more perceptible.
That's why we are starting a huge recruitment campaign. You think that PlayOnLinux is a a superb initiative? You always wanted to contribute to free software but you didn't know where to begin with? This is your chance!
Indeed PlayOnLinux's (POL's) project is potentially useful for everyone as most of the computer owners use it to play, would it be occasionally. Moreover, particular knowledges and/or talents are
NOT
required to become part of POL's team, judge it by yourself:
There are 3 main positions you can apply to:
-
Newser for the English website
. Should write news about free software and games' current events. Should obviously write perfect English and be ready to propose news at least once a week.
-
Moderator for the English website
. Should keep an eye on what is said and answer or follow up talked about issues. Won't be left alone, there's a team and administrators working together. Should obviously write perfect English and be ready to make the "don't write what your mother wouldn't like to read" rule respected almost everyday. This is a mighty position with the tools provided so previous experience(s) or "active and positive" participation in the POL's forum would be preferred.
-
Scripter
. Should be able to write scripts (in bash) to configurate Wine, which purpose is to facilitate the "install and play" of your favorite games. Should test and maintain his/her own scripts. Should know basic Linux commands (the bash script creation and the POL's specific commands are easy and quick to learn) and own games (or friends who'd lend them) in order to write the corresponding scripts.
But it's not all. If you don't have any skills in English (how did you come through down to here then??

), we are looking for newsers for the French section too! They share the same roles and responsibilities as the English ones, the only difference being the language (who'd have guessed that).
If you are interested in applying to one of these positions or if you just want more information, feel free to contact either me (via
Private Message
- free registration needed - or via e-mail : lenaindelamoria <at> gmail.com) or Tinou the administrator (
Private Message
or e-mail : postmaster <at> playonlinux.com)
We are looking forward to hearing from U!