Wednesday 7 May 2008 at 13:24
Today, we are very happy to announce the first year of existence of the project.
In order to celebrate it, I made a little summary of the PlayOnLinux's improvements for those who weren't here since the beginning :)
Look at the following table:
Version
Lines
Files
Screenshot
Descritpion
0.1
Unknown
Unknown
Charming, isn't it?
0.5
Unknown
Unknown
Yet more pleasant
1.2
241
1
A little interface had never hurted anyone
Thank you zenity
1.4
373
8
First version of the PlayOnLinux's "language". The first non-official scripts appear
1.5
417
8
Still more improvements
1.6.2
966
14
Appearance of the expert menu
1.7
1507
16
We migrate at OVH
1.8
2584
31
Most outstanding 1.x version :-)
2.0.1
4447
42
A nice interface
2.7.1
7405 + 6296 (Languages)
64 + 12 (Languages)
The latest version, released the same day that this news.
As you can note, the project evolved a lot since the beginning.
Happy Birthday PlayOnLinux!
Friday 2 May 2008 at 14:16
Hello,

It seems that our script for the repository added a development version of PlayOnLinux under the name of 2.7 version.

PlayOnLinux couldn't run. In order to avoid any problems, we released a stable and functional 2.7.1 version for everybody (not only Ubuntu/Debian users).

Sorry for the users that yet did the update to 2.7 and sorry for the PlayOnLinux's packagers

Have a good day


By Tinou
Friday 2 May 2008 at 0:20
As planned, here is the PlayOnLinux's 2.7 version
What's new:
A plugins manager
The plugins manger will allow you to add features to PlayOnLinux such as scripting ones. You will find some plugins on the download page. .pol is the plugins' format.
Any member who knows the PlayOnLinux's script language (feel free to read the documentation, available in English since few days, in order to discover this language) can create a .pol package (which can be both an offline game installer or a plugin).
If they interest us, they can become official.
Existing scripts at this day:
Script Creator, by Zoloom, version 0.2
Dosbox support, by Tinou, version 0.1
Wine Look, by Tinou, version 0.1
So the .deb packages don't exist anymore and are now incompatible with PlayOnLinux
Note: Think to enable a plugin after installing it.
New icons
The following icons, from the tango project, are added:


A warning for imprudent peoples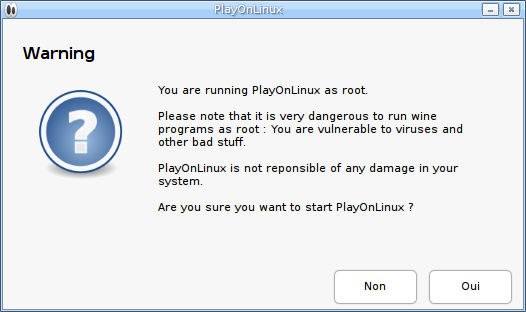 Miscellaneous stuffs:
- A proper and up-to-date changelog
- Big bugs fixed for the languages different from French and English
- The main interface's menus allow to access directly to each different tabs of the options menu
- Colors are back in the IRC chat
PlayOnLinux 0.2: thanks Zoloom
Here is his news:
Hello everybody,

The POLScriptCreator's 0.2 version is out, in late (because of exams) but better late than never. I announced it as a major version, it's more or less true. It implements the first version of the assistant, which allows you to really make a script without knowing anything to bash.



The assistant

This assistant is going to be more "design" and more complete (tab system, more options, etc...) in a near future. It's currently able to create scripts to install a game with CD(s), with a client to be downloaded on the net as well as with a installer stored localy, on your hard drive. It's usable but remains still perfectible.



What's new

- When saving your script, the default directory is now your home directory (i.e /home/user) instead of the path to POLSC.
- The functions' windows disappear when the function is added the the source code.
- "Total steps number" field added for the "presentation" function
- Generally, the different windows' sizes were enlarged
- A new system for files opening (faster and more respectfull of the encodage)
- The online help links to the new scripters' documentation
- The "new script" assistant
- Undo/Do again function added but not yet very powerful

I need your opinions about the assistant (things to add, to fix) it will help me to know what the scripters want precisely.

Thank you for your fidelity,

Have a good day on PlayOnLinux
Good evening
By Tinou
Monday 28 April 2008 at 23:42
PlayOnLinux have been released some new version of PlayOnLinux without writting news on the English web site, we are sorry

This is not a change log yet, but Tinou is currently writting one.
This is a summary of change since last news.
So since the version 2.2.1 :
In the 2.3 we have rewritten the setup window
and some bug were corrected.
2.5 & 2.5.1: it's the first integration of an IRC client in PlayOnLinux

The web navigator lynx is replaced by some lines in python (thanks Diablo150)
Russian translation improved
And ... some bug fixed.
2.6 & 2.6.1: it's a implementation of colourized nickname in IRC, and a reverse change for security. In an other word the 2.6 make a colour of each nickname in IRC and due to a vulnerability this function was removed (nickname with | .
Some novelty in the IRC client (such as date, sound, colour, stability ...)
The option panel has been remade.
PlayOnLinux is pretty easier to configure. You can enable a lot of new settings (such as Offline mode, Default web browser, auto-login into IRC, default pseudo for IRC)
The about box has been remade.
You can download the last package build for your distro on the download page.
http://www.playonmac.com/en/download.html
Information for Mandriva and Fedora user :
The rpm package for mandriva and fedora was in version 2.5.1 for a least one week, I have break my computer (not serious but I can't currently build package).
Thursday 24 April 2008 at 19:28
The new Ubuntu is out

You can find it here :
http://ftp.crihan.fr/releases/8.04/
or here :
http://releases.ubuntu.com/hardy/
You can also use this link to get ubuntu :
http://www.ubuntu.com/getubuntu/download
It's highly recommended to use BitTorrent instead direct link to iso (lot of server can't support load)
Wednesday 16 April 2008 at 17:03
Hello,
After the French, the Spanish and the Polish, we are going to open new localized sections of PlayOnLinux's website.
In order to do it quick but well, we are looking for some motivated peoples who would help us to translate the website and/or moderate the future new localized forums.
About these next localizations, the main ones we would like to add are:
- Russian
- Italian
- Japanese (Yes, you read well, even Japanese, nothing could afraid us

)
- German
But other languages aren't impossible, such as:
- Portuguese
- Chinese
- Swedish
- Czech
- Dutch
- etc
For instance, an Hungarian-speaking section is already started and should be opened soon.
So, if you speak fluently one of these languages and English (or French at worst), and if you want to participate to PlayOnLinux, to help Linux's users to play Windows games or just to take part to a great international project, feel free to contact us.
Contact: tinou < at > playonlinux.com
Monday 14 April 2008 at 19:20
Hello,
You maybe yet noticed the new section in the main menu at the top of the page?
You aren't dreaming, awaited for months, the PlayOnLinux's documentation was released yesterday. Sadly available in French only for the moment.
But don't worry, the English version won't last. So, this week end, you should be able to write POL's scripts for your games independently of your previous Linux, bash or Wine knowledges' level

Keep an eye on the news during the week.
Monday 14 April 2008 at 18:20
Some little fixes have been added since the 2.2.0 version:
- A remaining French sentence was translated
- Fixed language files
- A new dependency: cabextract
- There was a bug with Microsoft fonts in previous version for those who don't have cabextract. Thus, they will be reinstalled for everybody with cabextract.
http://www.playonmac.com/en/download.html
Have a good day
By Tinou
Sunday 13 April 2008 at 19:49
A little modification was released.

- DVD version support
- Use of an older Wine's version to ensure compatibility


By Tinou
Sunday 13 April 2008 at 19:45
Hello everybody,
PlayOnLinux's team has great news to announce. We have thought to you all the week-end, working to improve the project.
L'Oréal always tell us "2 in 1", so why not today? Without waiting anymore, here are:
- The PlayOnLinuxScriptCreator (POLSC) 0.1 stable version (by Zoloom)
- The PlayOnLinux 2.2.0 version (by Tinou)
PlayOnLinux 2.2.0
Are you ready to know everything that changed in this version? So hold on! I want to signal that,during this version's development, I lost my ~/.PlayOnLinux folder. I will be more prudent next time.
New menus
Here is what new menus look like: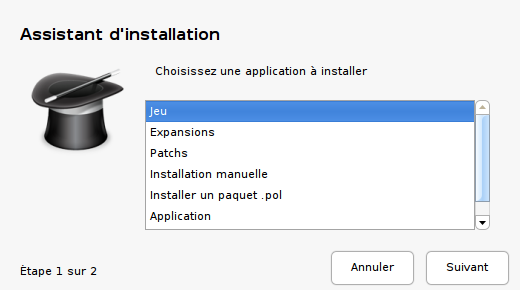 With double-click support, it's more pleasent.
For nostalgics, a new "menu_list" function, which use the old menus, was created.
No more Community and WorkOnLinux
These repositories are now activated as default setting after reproaches of "small game's list" we had.
An automated installer!
No, you aren't dreaming! For non yet scripted applications, and I insist, only for non scripted applications, you can install automatically your CD-ROM. See by yourself.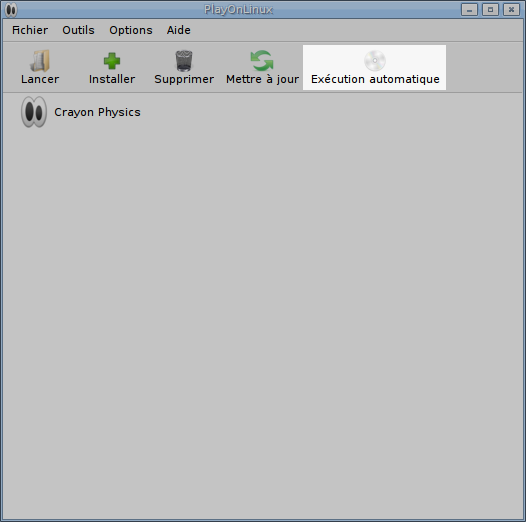 Oh! A new button. Let's try to insert a CD-ROM et let's see what happen!
And if I click on "Next"?
Then, it installs the game. What to ask more?
Ask_For_cdrom modified
Here is what the new Ask_For_cdrom function looks like
Well, and if my CD isn't mounted in /media?
Just click on "Other" and here is the window which appears: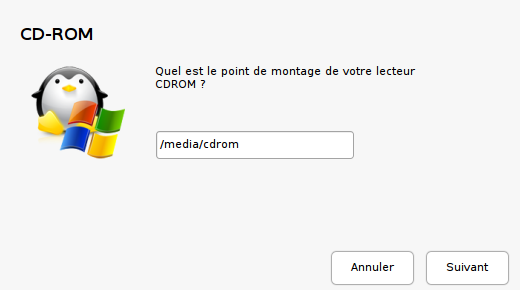 Fixed bugs
- Numerous interface bugs
- playonlinux-pkg --extract is now extracting in a new folder instead of just extracting where it is
- A lot of bugs with Microsoft's fonts, and with the personal directory's creation (you can now use playonlinux-pkg -i without initializing PlayOnLinux before)
Translations
Translation files were updated. Thank to everyone who sent me language packs. I count on you to help me to translate the few new lines of the 2.2 and 2.1 versions for the non yet updated languages.
A lot of commands translated
A lot of commands (for the scripts) are translated in English. MulX is writing a superb documentation for more details about them. Thank to him. Just let him some time to finish it.
Downloads
http://www.playonmac.com/en/download.html
P.S. We currently have a problem with the Ubuntu/Debian repository. If you are hurried to use this version, just go on the download page :-)
PlayOnLinux Script Creator (by Zoloom)
You can now install POLSC by downloading it at the following address:
Deb:
http://www.playonmac.com/script_files/ScriptCreator/0.1/PlayOnLinux-ScriptCreator_0.1.deb
Tar.gz:
http://www.playonmac.com/script_files/ScriptCreator/0.1/PlayOnLinux-ScriptCreator_0.1.tar.gz
According to me, this version is minor, although the beta is now far away. This version's goal was to stabilize the preceding beta version the faster possible, it's now done. Here are the changes:
- A little assistant to create a new script
- Enhanced windows
- Some language mistakes fixed
- More messages in the status bar
- 14 new PlayOnLinux's functions supported
- Adaptation of the code for translation by *.po catalog support
As I was saying, this version is a minor one and, moreover, won't stay at this point a very long time. Indeed, a all-in-one assistant is almost finished, which will be much more complete and will allow you to make a script in about 30s without typing any bash command (the life is beautiful, isn't it?

)
I planned to add some help in the different functions' windows, examples, the few lacking POL's functions (if some are remaining
).
In a future version, I will start the development of a syntax's coloration and a tab system.
A last thing before letting you play in peace, POLSC is still a young project, there is certainly some bugs, orthography mistakes and improvements are still possible, I count on you to help me and I thank you in advance! It help me to make a piece of software which answer to POLians' needs.
I still have matter for work, I go back coding!

Good evening to all, we thank you for your fidelity.
By Tinou